THE ABUNDANT GODDESS
Programme, Retreat & Temple Sisterhood
THE ABUNDANT GODDESS ONLINE PROGRAMME & RETREAT 2017
I welcome you here with all my heart. It is my deepest passion to share this mystical & magical work with you, & it is my highest intention that through this programme your life becomes a reflection of true joy, abundance & peace.
NEW MOON ARIES VIDEO & INTRO 
It is time for women everywhere to awaken and step into their spiritual leadership. The Abundant Goddess Programme, Retreat and Sisterhood is a powerful vehicle of pure light for women to accelerate their path of awakening and reconnect to the love, wisdom and power of their Abundant Goddess within. The Abundant Goddess Programme & Retreat is an experiential and interactive 4-month online 'consciousness shifting' transformational programme and retreat for women yearning to deeply align with their soul's joy and purpose.
Scroll Down The Page To Find Out More About Why This Programme Is For You, What You'll Receive & Success Stories From Past Participants
Through consciousness changing transformational tools structured around the 7 chakras and the sanctuary of our Temple we empty ourselves making space for our Goddess Self to be deeply embodied. You ARE a Goddess, like no other, She is special and unqiue to you, seated within your heart and She is calling you towards an unimaginably beautiful and blissful new life chapter.
Transforming your life takes commitment, support and a willingness to dive into all corners of your being. Without a roadmap, we can get overwhelmed confused or plain frustrated. The TAG will fast-track your transformation, growth and save you years of therapy, piecemeal workshops and months of trial and error to get you finally on your path of living out your Divine Soul Purpose. I have been initating women into rememberance of the Goddess for 10 years and leading large groups of women. I have helped many clients and therapists discover their Goddess within and I'd be honoured to guide you towards this powerful reconnection and relationship.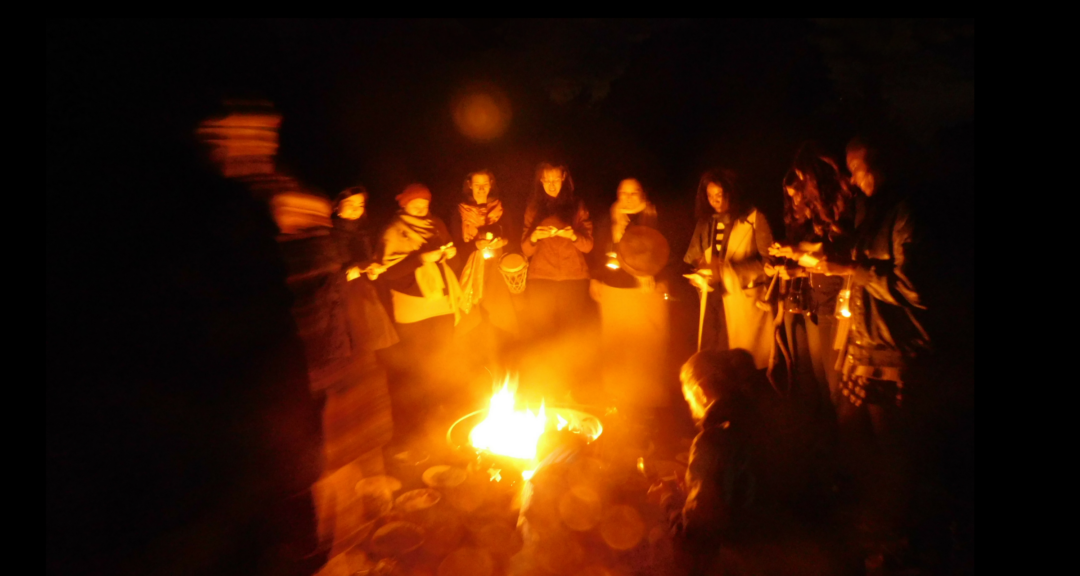 IS IT FOR YOU?
There are many things in this world to distract us from our truth.
The world tugs at our awareness. We make gurus out of our friends, teachers, partners, lovers, the internet, spiritual teachers, doctors, bosses, co-workers, children, mothers and fathers… there's a lot of wisdom out there, but the simple truth is that until you can feel, unfold, know and follow what your truth is, you will feel lost.
Quite literally, from the moment of birth, your wondrous, infinite potential stretched out before you becomes slowly inundated with the needs, views and values of everyone else.  And women are even more expertly trained in serving and satisfying others' desires before our own.
And, in living out other peoples' lives and their expectations of us, the reality is that we stay living amidst many, very real fears – of letting down people, of being rejected, of being alone.
So, I am not interested in you following my truth.
As that wouldn't be our truth, and besides, we're not here to recreate the wheel. We want to teach you how to create your wheel, to learn to find your own truth and then follow it, brazenly.
Once you find the HOME of this inner guidance that is just waiting so patiently for you to discover, you will never again fall into caring about what everyone else in the world thinks or feels before you.
Our path is a path of Self discovery, of inner, not outer truth, of understanding your own meaningful reality. And even if your own truth does not always make sense to others in your life, you will feel happy following and knowing what is right for you. Once you connect to this core within you and shine a light on it, you will listen and know what is asked of you from your own Higher Calling.
You will move beyond your fears and you will hear your heart and soul sing.
Others will begin to notice your self-love, your energy and happiness. They will want to know what your secret is. And you will say, "I have found my centre, my inner guidance, and I follow it".
I hope this programme births that desire or longing in you to find this inner guidance.
This programme is for every woman who yearns for freedom of their spirit, connection with other women and to expand the Divine presence in their lives. Whether you have been stuck with the same old issues, feel like it's time to finally make an exciting leap forward, or are just intuitively intrigued about how the Goddess energy works, these transformational tools will work for you.  As many other previous participants have experienced, the TAG programme will support you in a number of ways:
THE PROGRAMME'S SACRED PLEDGES
TRANSFORM the past story you have held about yourself forever with over 40 transformational tools
DEEPEN your knowledge, awareness and understanding of yourself and how reality works
ILLUMINATE & ACTIVATE  your Soul Divine Purpose through very 3 powerful initiations
PROPEL you forward in realising your potential, embracing and sharing your challenges, gifts and goals with the world
INSPIRE confidence, self-belief and action to birth a bigger version of yourself, open up new possibilities for your life and manifest your dreams
AWAKEN, REALISE & EMBODY your Abundant Goddess Within – the most powerful tool you have on this planet
RECONNECT you with other like-minded and hearted women and reawaken your soul's rememberance of powerful, sacred sisterhood
HERE'S WHAT SOME ABUNDANT GODDESS PARTICIPANTS HAVE TO SAY
"A wonderful experience that has left me feeling different inside. I hope to continue this wonderful feeling. Thank you for the opportunity of this journey that is putting me on my path."
HERE'S WHAT SOME ABUNDANT GODDESS PARTICIPANTS HAVE TO SAY
"There are simply no words to describe this amazing programme – but I will say its absolutely out of this world because well it literally is! I cannot recommend it enough if its Bliss your soul is seeking,you will find it after this programme!"
HERE'S WHAT SOME ABUNDANT GODDESS PARTICIPANTS HAVE TO SAY
"The programme has allowed me to really connect with my true self based on a deep knowing and trust. It has allowed me to heal, to understand, to blossom"
TAKE A DEEPER LOOK AT WHAT YOU RECEIVE
An opportunity for a supported lifelong journey with like-minded women on their path of transformation and abundance.
An Amazing Experiential 5 Night Retreat 21-25 September: the catalytic push behind the programme
A 4 month Online Interactive Transformational Programme beginning 17 May

: designed to gently initiate the process of your powerful transformation
3 Powerful Goddess Initiations: through the Queen of Heaven & Goddess Isis
A Personalised Reading: combined Astrology & Earth Path systems to decode your soul's challenges, talents, goals and destiny
Mentoring Support From Kate Throughout The Programme: in small monthy mentoring and sharing groups
Seasonal Sisterhood Meetup: the whole sisterhood meet once quarter in person to in cultivate the powerful sisterhood connection and community
Monthy Online Live Moon Ritual:

 

a live event for participation
Weekly 2 Hour Email Window: 

for Kate to answer your questions
Online Teaching Resources:

over 50 amazing transformational tools that really work, videos, audios, PDFs, live Q&As for personal questions
SPECIAL BONUSES
Earth Path Online Training for FREE:

so you can read your friends, your own and your loved ones charts
Qi gong set:

for you to integrate into your spiritual practise
Private Online Abundant Goddess Temple Sisterhood: our supportive, like-minded healing community
25% off the Spiritual Counselling Programme beginning in October 2017
Dive into the Bliss & Power of the Goddess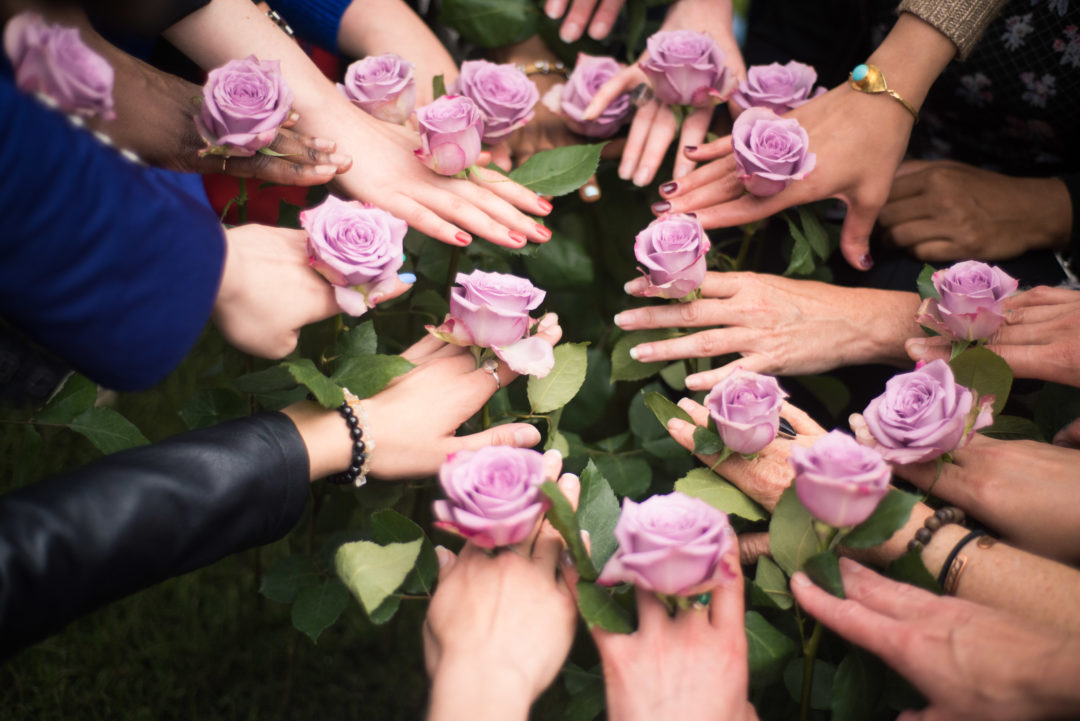 YOU'LL RECEIVE TOOLS, GUIDANCE & COMMUNITY
Once you join our programme, you'll have guidance and support from Kate and like-minded women in a safe and encouraging evironment.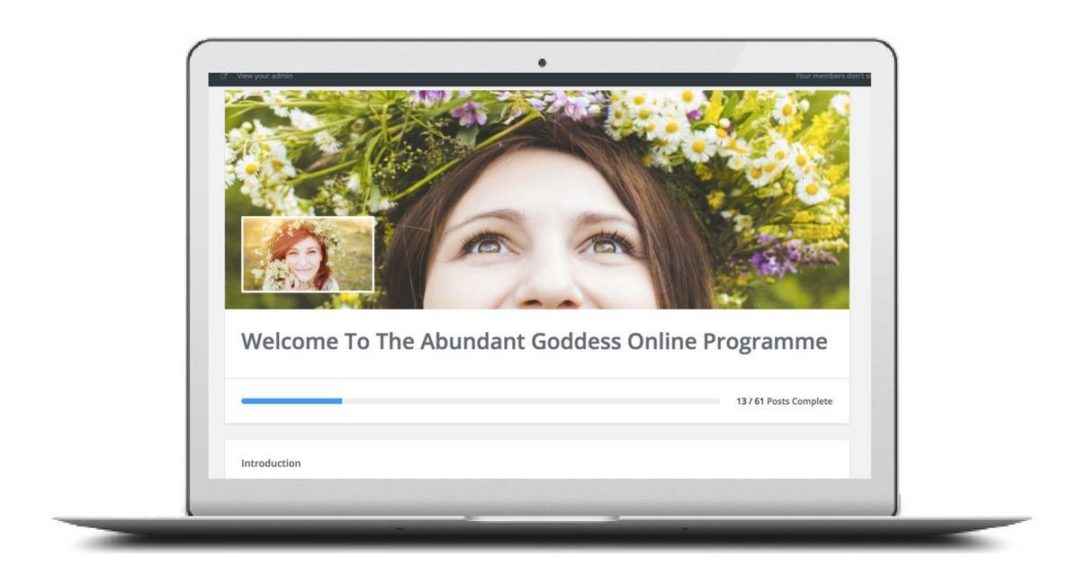 A 4 Month Online Interactive Progamme
A structured, supported approach to transformation. Online transformational tools, learning resources, audios, videos, PDFs
A structured, module by module content release that you will have lifetime access to – to go at your own pace – as fast or slow as you like
Monthly facilitated skype small groups with Kate
Personal email with Kate
Monthly Moon ritual
Over 50 transformational tools available
A Time To Experience The Mysteries Of The Goddess:
Receive 3 powerful Goddess initiations
Experience extraordinary ceremonies, rituals and powerful transformative processes
An opportunity to retreat from ordinary life and immerse yourself into a divinely sacred space
Connect and share with the other women in the programme
Dedicate yourself to the practices of transformation and devote intentional time to manifesting your dreams
Illiumnating your soul's calling and your blocks to realising your highest potential
Working with the combined power of both your Astrology and Earth Path charts
Reveals your blind spots
Looks at your challenges, talents, goals and soul purpose
Decodes your life themes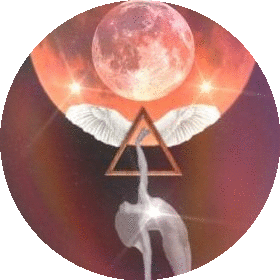 Monthly Online Live Moon Ritual
Once a month you will have the opportunity to join and participate in a powerful LIVE Moon ritual.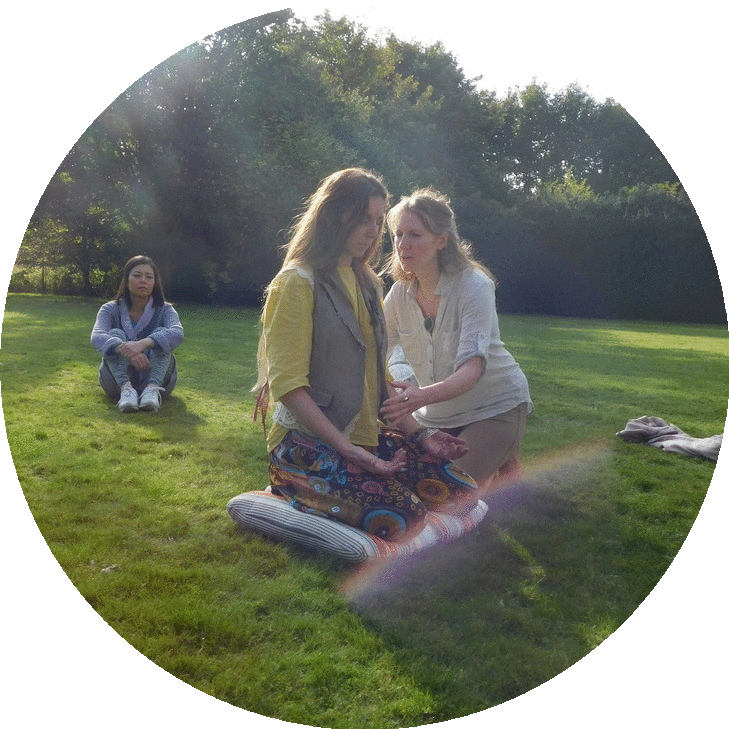 3 Powerful Goddess Initiations
You will receive 3 life changing Initiations from the Queen of Heaven and Goddess Isis during the retreat, which will clear, activate, realign and reconnect you with your Abundant Goddess within.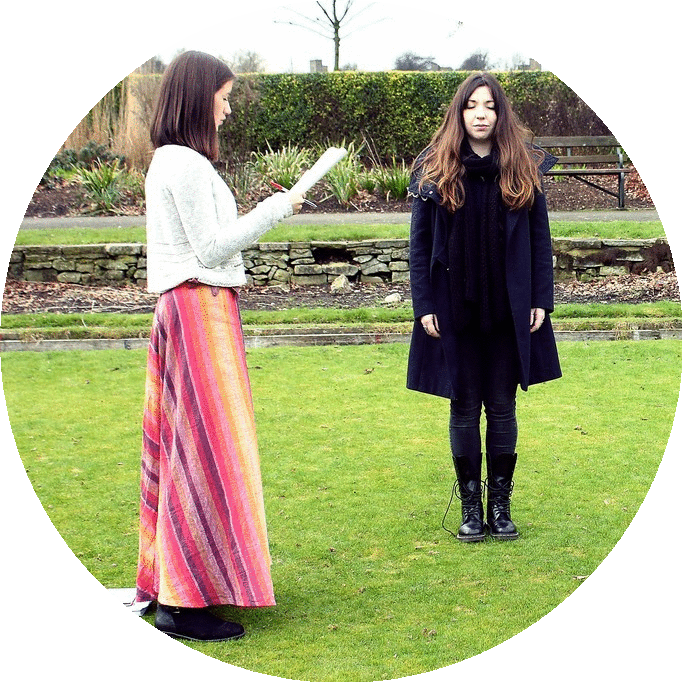 Mentoring Support From Kate
You'll have access to a monthly small skype group calls with Kate to ask questions, share your experiences and get answers.
Seasonal Sisterhood Meetup
You're about to join one of the most supportive communities around. We meet up as a whole sisterhood in London currently with powerful rituals to anchor the energies of the Divine Feminine within each of us inidividually as a unity of women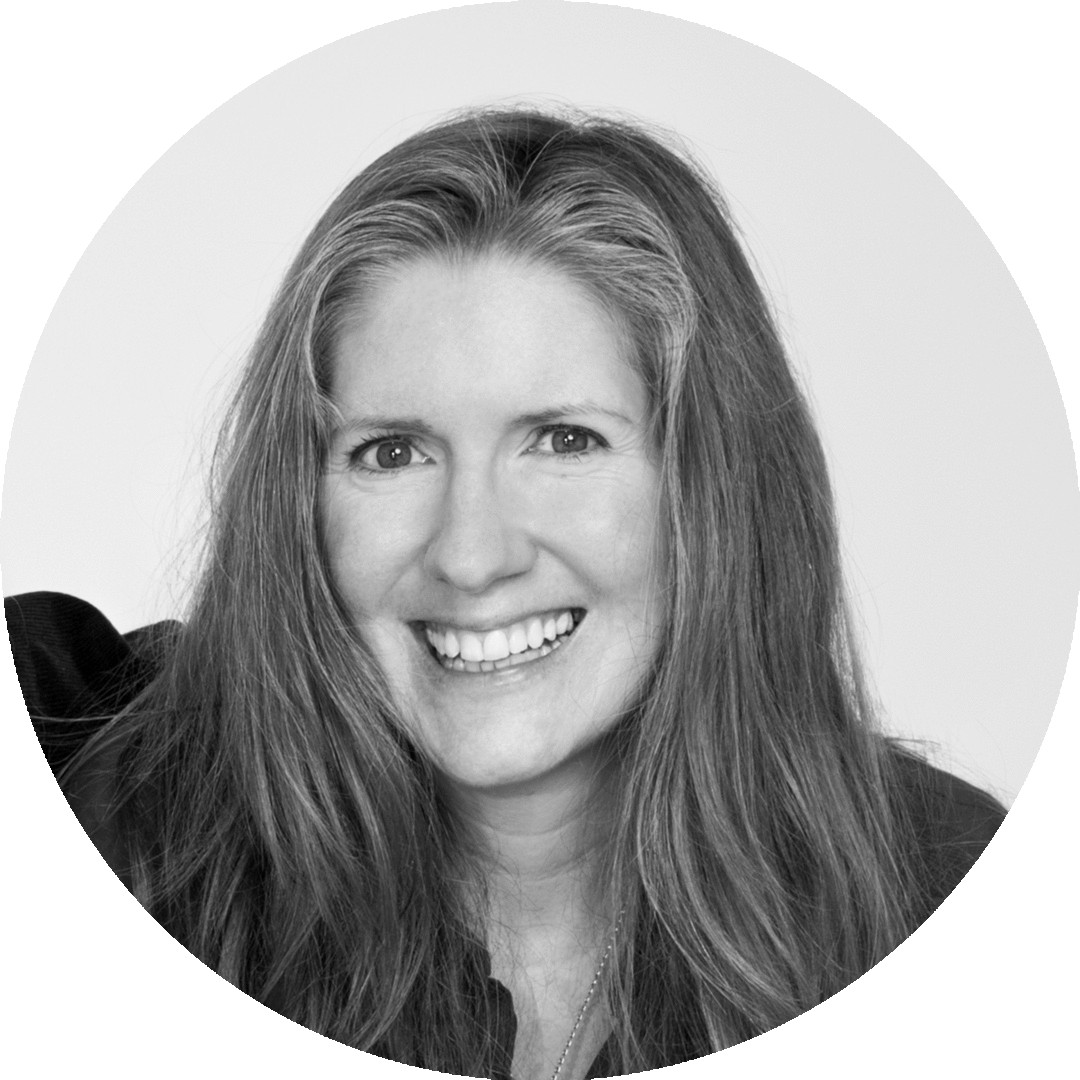 4 Months of Personal Email Support From Kate
I and the team are here to support you:
Kate provides personal support over email. For 2 hours each week, you have the opportunity to send Kate a short email which she will answer. For questions in respect to the programme, the rest of the team are available.
Over 50 Online Transformationl Tools
When you join the programme, you will have access to over 50 transformational tools to work with in a structured programme of transformation, that builds up a gentle but powerful momentum towards the retreat and the Goddess Initiations.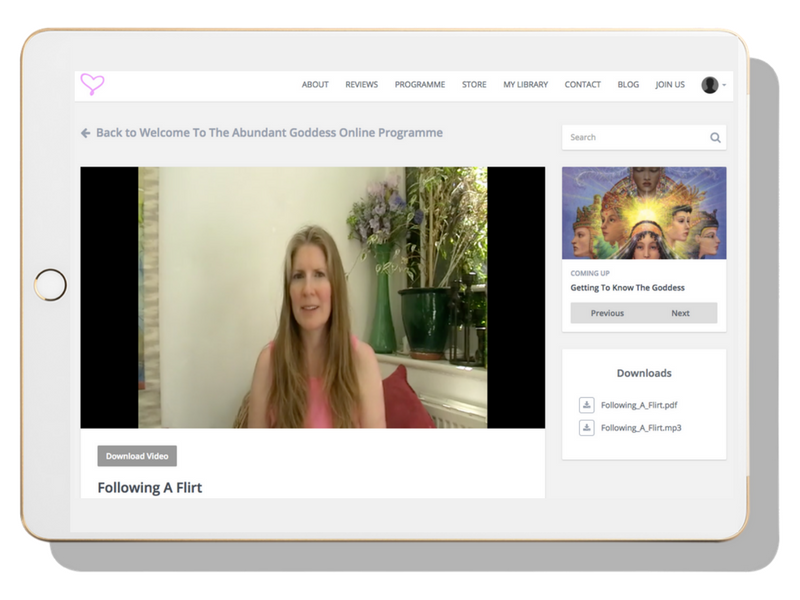 Earth Path Online Training
Access the free Online Earth Path Training and learn how to you read your own chart, your friends and loved ones that you get instant access to when you join the programme.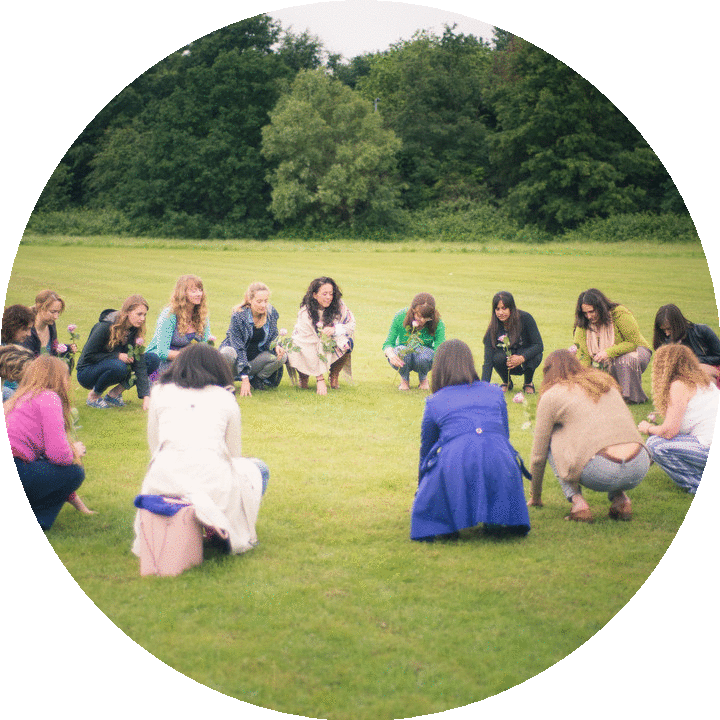 Private Temple Sisterhood Online
Our Abundant Goddess Temple Facebook Page and Group have a supportive group of women for you to learn, grow and share with.  In our private community you can share your growth – creative ideas, artwork, reflections. Find your voice, expression and creativity through your mantras, songs, poetry and art.
Qi Gong Training
At the retreat, you will learn a Qi Gong set which you can begin to integrate into your daily spiritual practise. Qi gong specifically helps ground our energy, stabilises our emotions and over time will prevent many different illnesses.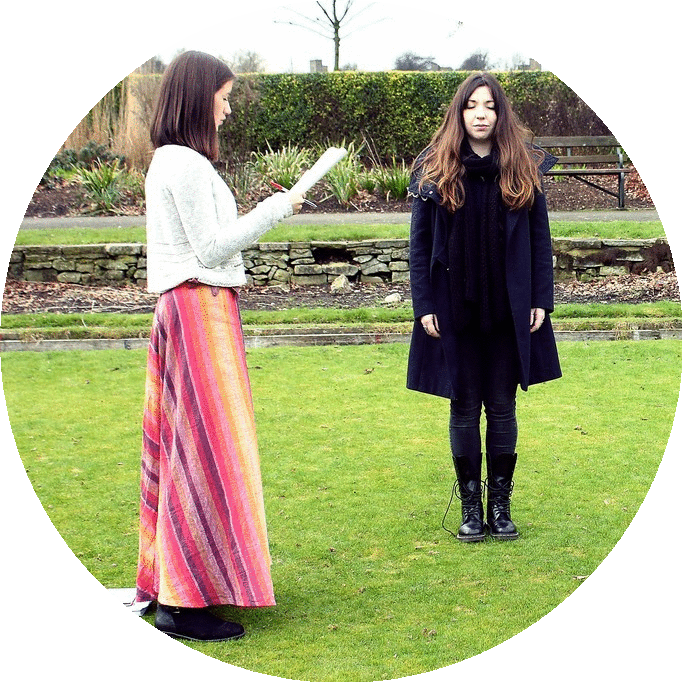 25% Discount Spiritual Counselling Training beginning October 2017
Participants completing this programme will receive the opportunity to join the Spiritual Counselling Training Programme beginning in October 2017 which allows you to journeysdeeper into your process. Value over £1000.
There are 7 modules in this 4 month seasonal programme based around the seven chakras. There are tools of transformation for each module. Each module consists of videos, audios, PDFs for teachings, practises, meditations, breathwork and exercises to heal, align, clear and raise the frequency of your consciousness. You will be working with your belief systems, your old memories, your ancestors, your lifetimes and most importantly your Abundant Goddess Within. You go at your own pace, there's no need to complete to watch every video and do every practise – you will know which feels right for you. The teachings are very deep and rich, and the practises are unique and powerful, most of which are channelled from spirit – the grandmothers, certain Goddesses or my own guides.
Chakra One - Your Birth Right To Be Here
The foundation of your life is your Divinity – through invocation, command surrender. You receive your Divine Blueprint – your Astrology & Earth Path Reading – and we look at the foundations of who you are, the dynamics you've choosen to work with, right to be here, you have a plan and a very important calling. You explore and practise what it means to live from a stable root chakra. Practises involve the sacred fire, meditation, decrees and invocations.
Chakra Two - Your Trust & Surrender To Your Womb Wisdom
We delve into the majesty of what it means to heal, feel, know your sacral chakra, how you can be in rhythm with life and your body, and trust yourself. You will be exploring the nature of this connection with yourself and deepen this over the 4 months. This is the beginning of surrendering to your Goddess within.
Chakra Three - Your Power & Will
You will learning to heal your connection with your power and will. Working through our relationship projections, calling back our power from outside of us and learning how to assert our boundaries.
Chakra Four - Healing Our Heart Wounds & Forgiveness
Forgiveness is one of the core principles of healing. If we are holding on to resentment, we cannot fully connect with our Divinity and our Goddess within. You will learn through your Higher Self to let goand forgive old hurt deepens your ability to fall in love with yourself by strengthening your connection with your Higher Self.
Chakra Five -Manifesting Your Reality & Dreams
As women, we must discover our authentic voice, stand up and engage with the world. This is our right and our voices – both internal and external – need to be mastered. We need to pick up the power and energy of our internal critic, understand the power of our words and start manifesting our lives through our ability to command our Abundant Goddess to go forth.
Chakra Six - Identify & Clear Limiting Beliefs
As we clear out the lower chakras 1-5, there's now a need to cultivate our new truths and beliefs systems based on higher truths and a perception beyond 3D reality. Here you will leaern to weave in the multidimensionality, have clear vision, and release alll the old family, societal imprints that usually dominate our higher consciousness. You will learn how to clear belliefs energetically, instill new truths, activate and open your pituary and pineal glands.
Chakra Seven - Your Goddess Connection
As you enter the connection of the 7th chakra, we are now ready to look to our I AM Prsence and our individual relationship with the Goddess, She is within and without. You will learn to connect to infinite possibilities held within the diversity of nature and yourself as a multidimensional being.
Don't Just Take My Word For It
I'm amazed and moved by countless people who tell me that this work (sessions, online training programmes, community, articles) has sparked and sustained a profound and meaningful change in their life.
This work opens a path a living out our Divine Soul Purpose. It inspires people to make bold and courageous moves, take action on long-held dreams and live lives they once only imagined.
Curious what might be in store for you if you join the programme? See below, or read powerful stories from our community right here.

3 of 40 Amazing Testimonials
"This programme has been so transformational from day one! Kate offer so much of their wisdom, tools, information, techniques, guidance as well as so much of their time, love and passion for this work AND for the women on this journey. The programme has allowed me to really connect with true self, based on deep knowing and trust. It has allowed me to heal, to understand, to blossom, to grow and to walk through that golden gate. I have welcomed the goddess within me! I am still digesting the profound and beautiful transformation I experienced at the retreat. And it has been an absolute joy and gift to connect with other women on this deep authentic level and create friendships. If you feel called to this journey, don't hesitate! The goddesses are calling you 🙂 And what you "receive" on and during this programme and retreat is priceless."
Nina
"The truth is that I cannot think of just one element as I loved the whole online programme from the beginning including the retreat. To be able to laugh again without feeling guilty and to be truly happy inside is such a transformation for me as I had years of unhappiness and I didn't realise how it has affected me in such a big way like something eating away inside you. Connecting with other sisters was so amazing too and also connecting with the Goddesses was so powerful. I loved being in the atmosphere of the retreat as there was so much love, trust and understanding. …I am truly grateful to you both for what you have done for me."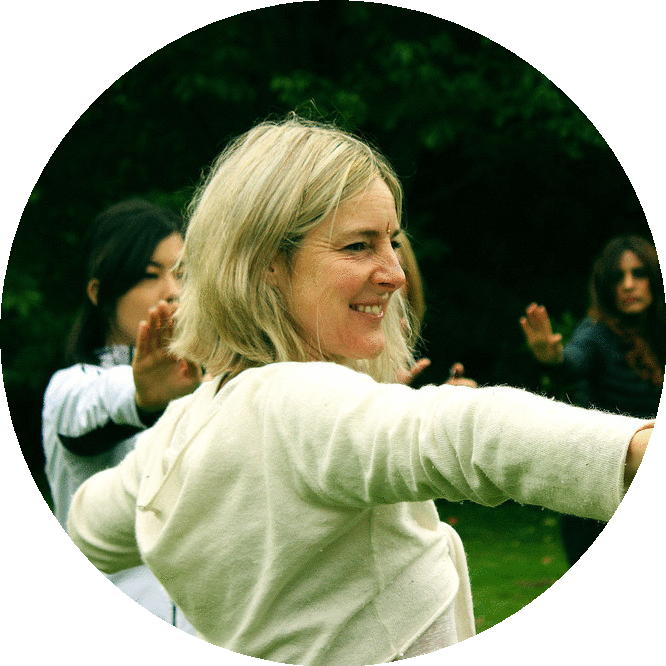 "Thank you Sage and Kate, your inspired programme has been an incredible journey. Initially I was worried about the finances but now that is no longer a concern as I feel that abundance will and is manifesting; the course is far more valuable than its monetary value, it has enriched all of our lives. The amount of time, effort, support and love you have put into the programme is phenomenal and you have given us budding Goddesses an enormous handbag of tools, techniques, visualisations and meditations to work with – I imagine I will be working with this material for some time to reap all the benefits and have already helped my clients with some of your exercises. If you think you may do this course, do!"
Melanie
You are committing yourself to honouring your Soul's Divine Purpose, the path it has been calling you to for many lifetimes, bringing into manifestation its birthright to experiencing bliss and joy on this beautiful planet earth.  You are bestowing a precious gift to yourself, consecrating your soul's path of awakening and journeying back to yourself.
Act now to secure your place and open a new chapter of your life. Places are limited. 
On completing payment, you will receive a welcome email from Kate with all the details. Do you have any specific questions that you need answering before you can join? Just drop Kate an email at katesurgey@hotmail.com and she will endeavour to get back to you asap.
Once we begin the programme you are committed. Living a fulfilled life aligned with your Divine Purpose, where you wake up every day glad to be alive and excited about what the day will bring requires a real willingness to follow your own awareness, courage to face and speak about difficult things, and a commitment to yourself from a deep, incredibly loving space. Most of all, it requires consistently showing up and a willingness to journey into yourself. There is no expectation of perfection, for who you are now is perfect, and this is the essence of this work. We are journeying to remember and ignite that perfection inherent in you. This is a journey to deepen that acceptance and perfection in the moment. The Sisterhood is here to support you fully on this journey for as long as you feel called, the programme's duration or a lifetime. We ask you to honour your commitment with payments, even should your circumstances change.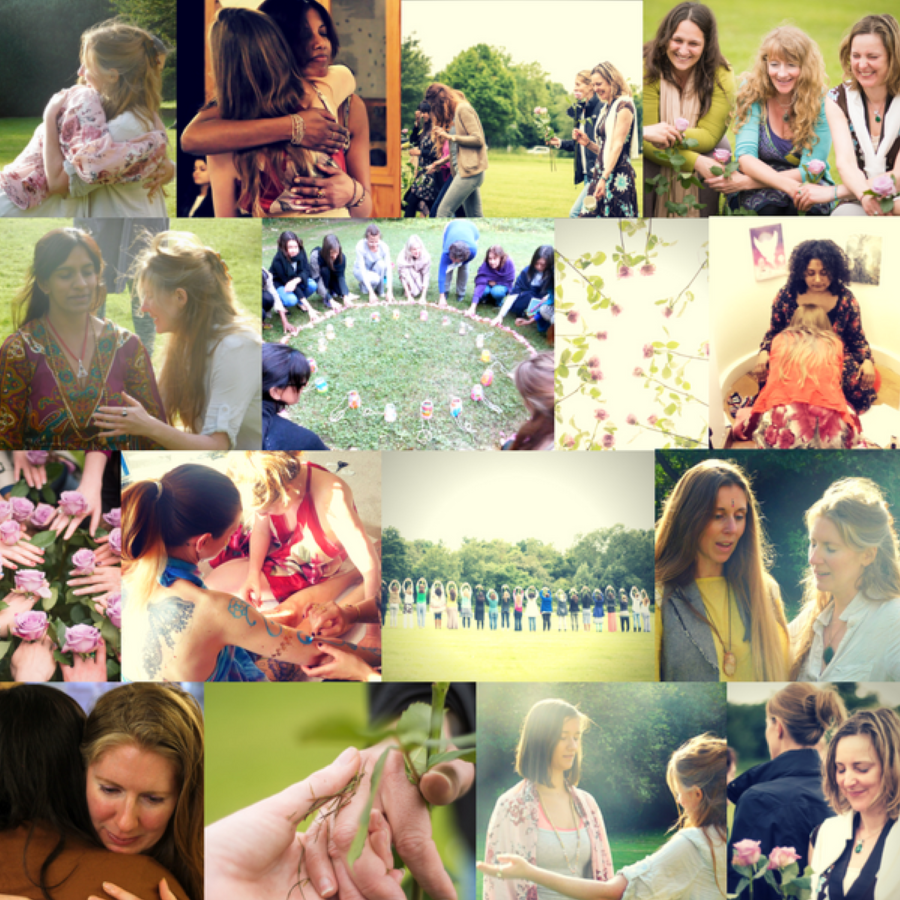 Where and when is The Abundant Goddess Immersion?
The Abundant Goddess™ 2 Day Immersion runs from 17-18 June 2018. It is near Wandsworth Common in London.
Can I join the programme anytime?
Yes, the programme intake is ongoing, although the immersion places are limited every year, which means you might need to wait until September if the immersion in June is full.
What are the 3 Goddess initiations and can I get them anywhere else?
Over the immersion you will be receiving 2 powerful initiations (there are 3 in total but I only do 2 on this retreat). They expodentially clear your aura and connect you to Goddess Isis. With rare exceptions, you can only receive them at the immersion as they are powerful, sacred initiations that require preparation, ceremony and ritual. Many people get scared when they hear the word initiation. These initiations are anything but scary. Often gentle, sometimes strong but always beautiful, powerful and amazing experiences of unconditional love that reconnect you with the Goddess, you as a Goddess - on a tangible feeling and body level.
What will the immersion consist of? What can I expect?
Powerful transformational teachings, tools and exercises, and of course the Goddess initiations. Connection with other women, a focus on awareness, feelings and consciousness clearing and expansion.
How does the Online Programme work with the Immersion and what does it involve?
The programme is a modular supported transformational programme that is then catalytically grounded through the Immersion.  The theory, experiential practises, meditations and explorations in the programme are complemented by the Immersion. Most importantly the Immersion provides you with your Goddess Initiations which are a fundamental aspect of your healing and expansion.
You are not expected to "keep up" with any programme content, as you have these resources for life and follow your pace.  All the material can be returned to at any point so you can journey into it deeper over the years to come. 
The two essentially can be taken separately or together but I encourage this combination as they are very powerful for transformation when combined.
It is not more work to do both essentially, but for some reasons people might not feel or be able to do both at the same time, hence them also being made available for separate purchase.
What is the reading?
You will receive an Astrology & Earth Path Charts analysis from Kate.  This gives you the opportunity to learn about your energy dynamics, themes, challenges, talents, goals and soul destiny and even past lives. Most importantly, it will key you into your highest potential. This alone is worth £120!
What time commitment is involved?
Since you have access to the online material and resources forever, you can take as much time as you like if you want to go slow and digest in your own time. Or you might want to go fast!
What access do I get to Maia during the programme and immersion?
You get access to Maia for the immersion, for answering questions and helping make sure you get what you need out of this time. With the online programme I offer a two hour block each week to answer email questions. If you have a geniune need for support I am there over skype, but some things might require you to book a session or I will direct you to helpful resources and tools.
What payment options are there?
What is the refund policy?
No refunds are available once you have secured your place.
I don't know anything about the Goddess - does this matter?
Many women don't!  That's why we are doing this work! This retreat is suitable for those familiar and not familiar with this work. We will LOVE whatever you bring with you, and you are more than welcome to just come with curiosity. As long as you come with an open mind, and a willingness to look at yourself.
Are there any age restrictions?
As long as you're a woman 18 years or older, or accompanied by an adult if under 18.
Will there be resources to take away from the immersion?
The retreat will provide around 8 resources to take away, but in the main it is the programme that provides the resources.