Spiritual Counselling
Programme
2019
The Spiritual Counselling Programme is an awareness and spiritual tools training that draws together contemporary and ancient healing paradigms with the aim of kick starting or transforming your therapeutic practise.
Are you a healer, therapist or counsellor wanting to work more from a spiritual perspective?
This programme will help you meet your client where they are at and from that place, facilitate deep transformation.
Are you new to spirituality and want to become a therapist or counsellor working from a spiritual perspective?
This programme will equip you with the tools and awareness that you need to transition into this new direction and get on your path.
Learn indispensable, transformational tools using Divinity & knowledge for a successful practise
Discover how to work with the most important tool in your therapy practise – your own awareness
Inspire you, give you the skills & confidence you need to make your practise grow
Find & align with your therapeutic niche in the holistic healing world
Identify a client's underlying issues
Explore how to follow & unfold a client's process as it arises in the moment
Guide clients to connect with their Divinity & multidimensionality
Weave together tools creatively in your therapeutic practise
What You Will Learn – Programme Content
The Feminine Principle in Therapy
The Goddess Dimension & Tradition in Therapy
Flow of Cycles, Nature, Rhythms of the Moon, Tides & Seasons
The Body – Proprioception, Feelings & Subtle Sensation Work
Therapist's Intuition & Creativity
Therapist's Metaskills – Curiousity, Matching Your Client, Feelings
Relationships in the Context of Therapy
The Energy Body – Chakras, Meridians & Resonance
Cultivating & Maintaining Spiritual Light 
DNA Past Life, Ancestral Healing, Soul Retrieval
Healing Soul Fragments & Soul Shattering
Quantum Memory Clearing
Pulling Back Projections, Cord Cutting
Soul Purpose – Basic Astrology & the Earth Path System
Client's Challenges, Disturbances & Symptoms 
Connecting with your personal myth – Dreams
Working with Beings of Light
Working with the Goddess & Higher Self
Working with Levels of Consciousness
Lower States of Consciousness
Working with Forgiveness, Grace, Love, Gratitude
Using Ritual, Ceremony, Intentions, Command, Potential
Dreaming up, Projections & Transference 
The World Channel – World Events & Synchronicity
Diversity, Privilege & Rank
Primary Identity & Secondary Unlived Processes
Client's Identifications, Roles, Archetypes & Allies
Working with Limiting Beliefs, Edges, Patterns & Themes
Following Process – Channels, Signals & Feedback
Sensory Grounded Information
Process Alchemy – Amplification & Shapeshifting
Programme Structure & Pace
The programme structure is segmented into three sections and smaller units. There are different learning technologies for different learners, including audio, video, illustrations, text, discussion forums, and worksheets. The delivery is in short, bite size portions so it is easily digestible. You work through each section and the smaller units before moving onto the next section. You divide your time in a way that suits your schedule. The programme is geared towards a fulfilling learner experience and deep transformation of belief systems, perceptions, awareness and consciousness. It works best if you engage, ask questions and participate in the online discussions, which are there for your support. Online study is supported through a week intensive for each of the three sections. These intensives run two times a year. It is important to have either in person or via skype sessions with Kate and atttend the group coaching sessions.
Section 1
Embracing Inner Work
This is the first section of the programme focuses on you building your knowledge and shifting your perceptions. You are guided to journey into your own innerwork by exploring experientially the theory and concepts.
This helps you directly experience shifts and new awareness about yourself and this work.
There is reflecting, journaling, live group coaching sessions, sisterhood community connections and support.
This can take place over 4 months. Once you have completed this section, you can move on to section 2.
The following approaches are included in this section:
Theory learning: Teach theoretical and conceptual topics to provide a context for the entire program and help students to alter their perceptions.
Experiencing: Provide personal exercises for students to work with the theories and do their own innerwork.
Reflecting: Using both their past and current experiences, provide deep reflective questions for students to ponder.
Discovering: Provide richer lessons and guided exercises for students to advance their understanding of theories shared earlier.
Shifting: Have students determine their profound insights and share in the discussion forum how that has impacted their life, views and work.
Supporting: Provide live calls and written support in the discussion forum. Can commence small group work for support purposes.
Section 2
Using Counselling Tools
The next section introduces deeper tools and methods that you can use to begin to work with others. You receive a buffet of tools which you can experiment. You are also guided to work in groups.
Here you will be sharing your experience and exploration with the tools in the online community as well as your own group, as well as critiquing and customising the tools for their own practice, bringing your own flavour to them.
Live group coaching sessions, weekly email prompts showcasing tools, online community work and sharing of creative work.
This can take place over 5 months. Once you have completed this section, you can move on to the final section 3.
The following approaches are included in this section:
Exploring: Provide access to all tools (or drip out some at one time) with instructions on using and sharing of other resources.
Experimenting: Provide guided exercises on how students should engage with the tools and expectations or goals to achieve. Start the small groups to share the work.
Reflecting: Students reflecting on their experiences with the counseling tools. Small groups to share their reflections to learn from one another.
Critiquing/evaluating: Later in this section, after experimenting with the tools, students critically assess and evaluate the tools in an online discussion.
Personalising: Students amend tools to suit their practise.
Sharing: Students to share 1 or 2 amended tools along with a description and reasons for their changes.
Section 3
Working with Clients
This section is delivered as a guided self-monitoring practicum with certain requirements, goals, teachings, instructions, resources, and reporting back. You will be exploring specific counselling methods with clients, in a gradual way.
You can track your own progress against a series of checklists and submit them via a survey online. Once the practicum criteria and hours are completed, a certificate can be provided.
This can take place over 5 months.
The following approaches are included in this section:
Practicing: Have students follow a self-monitoring practicum with set requirements to work with clients using new approaches, methods and tools.
Applying: After some practicing, students can work on applying new methods to their practice.
Working: For a period of time, new methods are used in their regular practice with notetaking of reflections, critiques and action plans.
Revising: Ask students to share their client work experience and how they have altered their practice using and possibly altering new methods and tools.
Systemizing: Help students to seamlessly use new methods and tools.
Establishing: At this point, students have altered and established a new way of counseling in their regular practice.
The Programme's Developmental Path – What You Can Expect For Your Own Transformation
STAGES OF DEVELOPMENT
DEVELOPMENTAL PATH
 1.

Awareness

This is the early stage where you are not fully committed to make significant changes.

Training/coaching focus: We bring awareness through high-level discussions and sharing.

 2.

Receiving

The stage where you may be aware of or attending to something inside or within your environment. You intend to change, are aware of the pros of changing, but also can identify with the cons.

Training/coaching focus: We build trust and guidance through innerwork tools/exercises, sharing and discussions.

 3.

Responding

The stage where you are showing some new behaviours as a result of experience, but are still contemplating whether to make significant changes.

Training/coaching focus: To guide your reflections, answer tough questions and support any arising fears/challenges/resistance.

 4.

Valuing

The stage where you have a plan, intend to take action in the immediate future, and are showing some definite involvement or commitment.

Training/coaching focus: To encourage your progress and journey together.

 5.

Organising

The stage in which you are integrating a new value or perception into your general set of values/belief systems, and giving it some ranking among other priorities. You are taking action and making behavioural/mindset changes, and determining how to maintain track your unfolding process.

Training/coaching focus: To support your shifts and provide tools to sustain changes.

6.

Internalising

The stage where you are acting consistently with your new values ect, and attempting to be effective in sustaining your new behaviour.

Training/coaching focus: To celebrate your recalibration.
How The Programme Is Designed To Ensure You Transform & Learn
How You Spiral From Innerwork to Client Work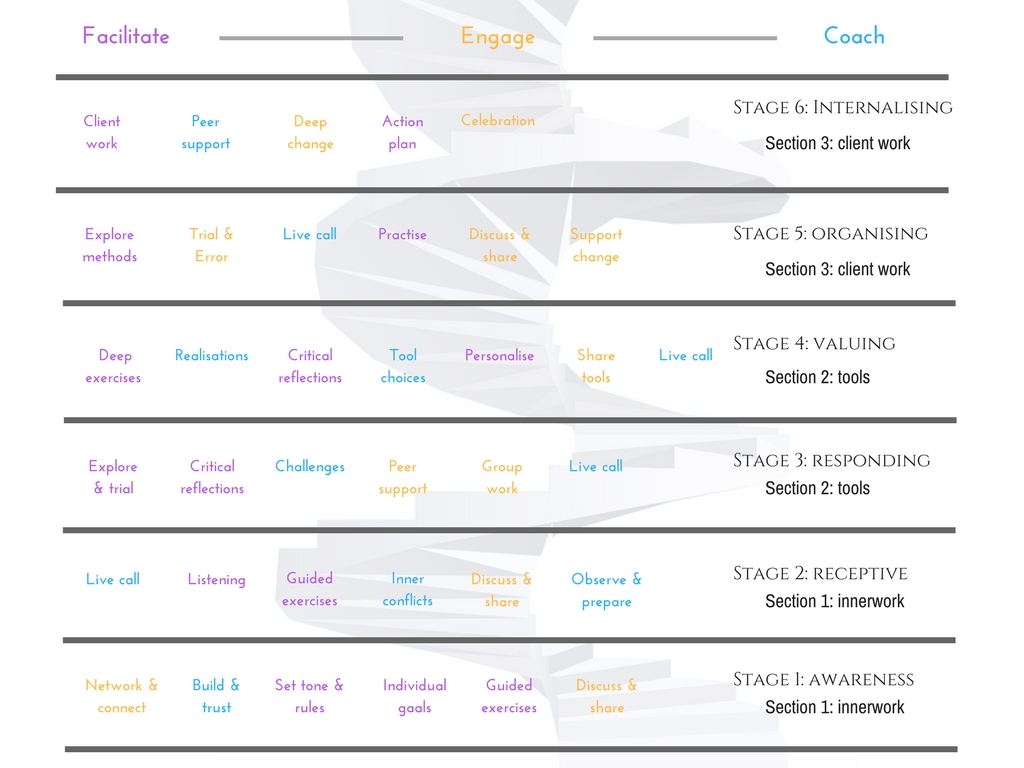 The Core Principles of Our Peer Sisters Support Network
Mutual – As we support each other on our journey during the programme, it is critical that we aim to contribute as much or more than the group contributes us to. Whatever your expectations from the group, give in the same way and you are more likely to receive it in return.
Reciprocal – Peer relationships involve a sharing and exploration of different cultural and world views and the generation of solutions together. Respecting that we are all on various stages of our spiritual and soul journeys, while supporting and learning from each other.
Non-directive – The peer sister support forum is not for telling others what they should or should not do, or even giving advice. We are here to answer questions, share our experiences and be supportive of other's decisions in their journey, but essentially it's there to support others to find their own answers from within.
Encouragement focused – Peer support engages the group with inspiring empowerment and helps generate personal belief, energy and commitment with the person you are supporting. This could mean supporting people to work through their personal challenges by focusing on a strengths-based, inclusive, progressive and safe environment. These principles can be used to guide training and supervision and to maintain the integrity of the peer role.
Strengths-based – Through knowledge and experience sharing, peer support explores what a person has gained from their experience, seeks out their qualities and assets, identifies hidden achievements and celebrates what may seem like the smallest steps forward. This involves a relationship where we are providing or receiving support with no fear of communicating successes or struggles and for the group to be able to identify, through their experiences, in what ways everyone is succeeding and growing on their journey.
Inclusive – Being a 'peer' is also about understanding the meaning of the group's collective experiences and involvement in the process of the individual and group journey. Creating space and avenues that engage the group as a whole and allow feedback and involvement from everyone is key. There are group members that will share more than others and some less. We need to gauge when to give others the chance to share or respond and that may mean actively, and politely, engaging someone in conversation versus waiting for them to speak up. We acknowledge that we all have different abilities when it comes to speaking up, so we support each other to do this through engagement.
Progressive – Peer support does not involve static friendships, but progressive mutual support in a shared journey of discovery. The peer is not just a 'buddy', but a travelling companion, with both travellers learning new skills, developing new resources and reframing challenges as opportunities for finding new solutions.
Safe – Supportive peer relationships involve the negotiation of what emotional safety means to both parties. This can be achieved by discovering what makes each other feel unsafe, sharing rules of confidentiality, demonstrating compassion, authenticity and non-judgment.
Programme Options:
There are two programme options available. A full programme for those that want to dive deep, and for those that are only interested in the online access due to location we offer an online programme only option.
Full Programme with Spiritual Counselling Certificate
14 months online teaching – PDFs, audios, videos, Q&As
Three 7 day Immersions in London
1 Session with Maia per month over Skype/In person for 14 months
Monthly small, Skype & in person intimate group supervision sessions once in the final third module
An online Peer Sister Support Network as part of the creative, transformative journey
An Astrological & Earth Path Reading
FREE Online Earth Path Training and access to other online trainings as and when released
Payment Structure
Monthly payment option not currently available
Each individual section fee of 3 sections of £998, payable before the release of the next section = £2994 in total
OR discounted full fee for all 3 sections £2695 in advance
Online Programme (without Immersion or Certificate)
14 months online teaching – PDFs, audios, videos, Q&As
An online Peer Sister Support Network as part of the creative, transformative journey
1 session with Maia over Skype/in person per month for 14 months
An Astrological & Earth Path Reading
Payment Structure
Monthly payments of £145 for 14 months = £2030 in total (you are committed into this monthly payment agreement)
OR discounted each individual section fee of 3 sections of £620, payable before the release of the next section = £1860 in total
OR discounted full fee for all 3 sections £1695 in advance